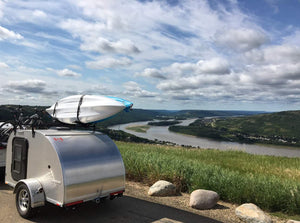 Small, Premium
Teardrop Trailers -
Big on Adventure.
designed for the ultimate camping experience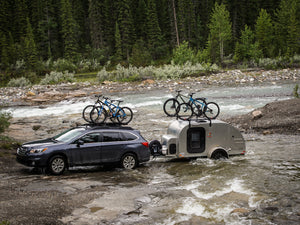 Our Gnome homes Teardrop Trailers are Transport Canada certified.
We make sure your camping future looks great.
Canadian-made Teardrop Trailers
Handcrafted in Alberta, our vintage-style trailers will provide you with a lifetime of convenient and comfortable getaways in the great outdoors! 
Make the most of your next camping experience and live a little!
Welcome to the Gnome Homes Teardrop Trailer website and thanks for your interest in our Gnome Homes and the Teardrop lifestyle. My personal goal is to help you enjoy the great outdoors by enhancing the comfort of your travel and camping experience. Our Gnome Homes are designed to your specifications to meet the needs of your future adventures. Please enjoy the website and if you have any questions about Teardrop trailers or about our product specifically, I would welcome a call or email from you. 
Thank you very much,
Cees Stolk  - Owner and fellow traveller
Supporting the Veterans Food Bank
Growing up in the Netherlands, the son of Dutch veteran, every citizen is proud and well aware of the service and sacrifice of the Canadian Armed Forces in freeing the Netherlands in WW2. I was troubled to learn of the significant and growing need for support for our Canadian Veterans, the men and women who continue to risk their lives and well being for our freedom and security. I wanted to help.
So in June of 2023 I donated a Wanderer Gnome Home to the Alberta Veterans Association Foodbank which they are raffling off on "RaffleBox". If you would like to support this worthy cause, you can get tickets by visiting the link below.
What's new at Gnome Homes
The Max Coupler will allow your trailer to go places it has never been!  The tri-axis design allows the trailer to follow along on any trail you decide to travel.  The Max Coupler features bushing locators AND and a tapered yoke to make connecting and aligning the coupler as easy as a typical ball coupler.

This coupler comes standard on the Yukon and is available as an option for our other trailers.

Max Coupler Off Road Coupler
This tank is mounted on the side of your trailer and provides an easy connection to your stove once you arrive at your camp site.  The tank is securely mounted for travel and yet easily accessible when you need to fill it up.

5 LB Trailer Mounted Propane Tank
A stainless steel counter is attractive, durable and provides for an easy clean up.  This option includes the stainless steel counter as well as aluminum sheeting for the balance of the galley space. 

Stainless Steel Counter
Start Customizing
Build Your Teardrop Trailer
Our teardrop trailers keep camping simple. No matter what base model you start from, your trailer can be fully customizable and is built with the highest-quality materials.
Learn More
Testimonials
 When i was looking to replace my old teardrop trailer I looked at quite a lot of other  manufactures models. Was never impressed by any of them. With just one visit to see a Gnome home I knew I had found what I wanted.

Not only was i impressed by the superb craftmanship and the rugged durabillity, it was apparent every detail mattered to them .

The kitchen galley has storage to keep everything ready to hook  up and go.

The trailer is easy to pull and  maneuver through traffic.

I could list the specs but those are easy to find.

If you are looking for comfort in the back country that keeps you engaged with your surroundings these are the trailers.

Customer service is fantastic and if you happen to bump into Cees camping , you will be invited to visit.

See you around the campfire

Sheila
If you love camping but are put off by the work involved to get ready for and clean up from your adventure, then you will absolutely love owning a Gnome Homes teardrop trailer. It truly makes rustic camping a breeze combining the best elements of traditional "tent" camping with the convenience and comfort of a real bed and kitchen.  It has also been a real pleasure to work with Cees to customize our new "home-on-wheels"!  He is passionate about about his craft and the workmanship of his product and is all about encouraging and enabling people to enjoy the great outdoors

Mark
We purchased our Gnome Home this June and we're so glad we went with this teardrop trailer. We had a great experience customizing our trailer and seeing it built. We love the aluminum construction and galvanized frame, and the torsion axle makes it off-road capable.  We pull it with our Jeep and barely notice it, and it will go places most vehicles cannot. The expert quality of the build gets a lot of attention every time we take it out and it's amazingly easy to set up.  It's well-sealed, dust proof, and definitely does not leak. It's very comfortable and has a surprising amount of room for its size.We were glad to support local business and excellent craftsmanship in choosing this fantastic little trailer. Live a little!

Mike & Corinne
We're on Instagram @gnomehomesinc
Use the Goggle😎
Our Location
355, 22560 Wye Road Sherwood Park. Alberta
Cell: 780 902-5022
Office: 780 416-5551
Please call to make an appoinment to make sure we are available at the shop.